5 Current Bridal Styles to Inspire
You often hear that when a woman gets engaged she immediately knows what sort of dress she wants to marry in, but then finds that when she tries her dream dress on, it's just not right.
We have therefore tried to simplify the issue by giving you five current styles to consider and inspire your hunt for the perfect dress.
Ethereal Bohemian – The 'boho' style movement comes in many forms… long floating skirts, layers of lace, loose cut silhouettes. The beauty of this style is it can be so comfortable to wear, yet somehow make you feel like a Grecian goddess at the same time.
Simple Chic – It may be a cliché, but very often less really is more! Rather than opt for a detailed dress that wears you, it's definitely worth considering a minimal, streamlined design that compliments your form in every way. This contemporary bridal style is strategically designed to flatter most body types, not insisting that you be tiny and waif-like in order to pull it off.
Vintage Glory – Some of the decadence of bygone eras lives on in bridal styles and really makes a statement. From 1920's sequins, silk and dazzle to 1950's tulle and lace tea length skirts, many brides find that choosing a vintage style expresses their character and makes them feel extraordinary.
Classic Couture – Now you might immediately balk at the suggestion of a Couture gown due to the multiple £££££'s attached to this style, but there are dozens of talented bridal designers out there today who replicate this glamour for a fraction of the cost. There's something very special about couture, that makes a powerful impact, whilst remaining the epitome of chic. Don't be afraid to look further afield for your Dior and Chanel replicas.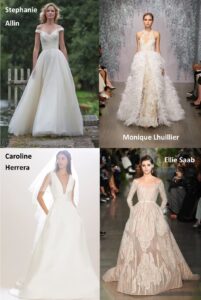 Romantic Elegance – Ok, so the strapless, lace, big princess dress has been seen over and over and over… and after Kate Middleton walked down the aisle in that incredible Alexander McQueen gown, a lot of us gave up trying with this bridal style! But don't lose hope if this is your dream, because there are innumerable ways to do lace, romance and big skirts, with a difference. Why not explore different necklines, sleeve lengths, colours and sizes of skirts.
Next up, perfect hair styles to compliment your dream dress.
https://www.capesthorne.com/wp-content/uploads/2016/10/capesthorne-hall-logo_340x.png
0
0
Jenn Clempner
https://www.capesthorne.com/wp-content/uploads/2016/10/capesthorne-hall-logo_340x.png
Jenn Clempner
2016-04-20 10:51:23
2016-08-03 14:26:24
5 Current Bridal Styles to Inspire