The Best Deodorants For Your Wedding Day

The Best Deodorants For Your Wedding Day
A good antiperspirant or deodorant is an essential part of your getting-ready routine any day of the week, but on your wedding day, it needs to work ten times harder!
Could you wear your usual deodorant on your wedding day?
Absolutely, but taking into account the excitement of the day, the getting ready nerves, and the dancing , you may need extra protection to keep you sweat free and smelling sweet!
With this in mind we have put together a list of the best deodorants for your wedding day.
What's the difference between antiperspirant and deodorant?
First of all, it's worth noting that deodorant and antiperspirants are actually two different things.
Deodorant helps to reduce odour; antiperspirant helps reduce sweat. So, if you're in need of a solution that does both, make sure you pick up an "antiperspirant deodorant".
Malin & Goetz Eucalyptus Deodorant £19
This natural deodorant by Malin + Goetz is alcohol and aluminium-free, it's ideal for sensitive skin and leaves behind a fresh eucalyptus smell.
Mitchum Advanced Control £5
Mitchum's Clinical Deodorant is a powerful roll-on formula, it gives day long total sweat-proof confidence.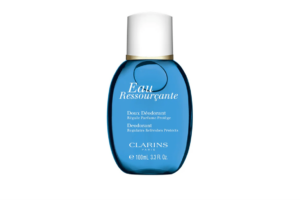 Clarins Eau Ressourçante Deodorant £20.50
This deodorant uses a plant-infused complex to prevent and neutralise body odour without interfering with the natural perspiration process.
Vichy Deodorant 48 hour
Intensive antiperspirant Roll on £9.50
This hypoallergenic roll- on deodorant is designed to last for up to 48 hours, it contains 15 different minerals and is designed to keep your skin protected and comfortable.
Dr. Hauschka Sage and Mint Deodorant £14
Delivers long lasting protection with a powerful fast drying formula, this deodorant is free from synthetic fragrances dyes and preservatives.
Aesop Deodorant Roll-On £23
Also available in a spray-on option, Aesop's deodorant is alcohol-free and uses a blend of essential oils, wasabi extract and zinc ricinoleate, an ingredient known to help absorb smells.
A wedding antiperspirant or deodorant needs to be reliable.
It needs to be aluminium-free (aluminium reacts with sweat to create yellow stains on white clothing), and of course, you need to be happy with its performance and scent!
So, it's a good idea to test drive it before your wedding, on a night out, or at your hen party, for example!
Lastly don't forget to let your antiperspirant or deodorant dry fully before putting on your wedding dress.
Why not take a look at the other wedding blogs on the website for more inspiration!
https://www.capesthorne.com/wp-content/uploads/2016/10/capesthorne-hall-logo_340x.png
0
0
Anne Austin
https://www.capesthorne.com/wp-content/uploads/2016/10/capesthorne-hall-logo_340x.png
Anne Austin
2023-02-28 09:53:25
2023-02-28 09:53:47
The Best Deodorants For Your Wedding Day