A Guide to Corsages
Wedding corsages are created from a single or small group of flowers. Typically worn by the female members of the wedding party. They are similar to the male buttonholes, but usually slightly larger.
The mothers of the bride and groom normally wear corsages, but it is a good idea to include the grandmothers too.
Check what they are going to wear so that appropriate flowers can be chosen for the corsage. Singapore orchids, stephanotis, spray roses and calla lilies all make beautiful corsages.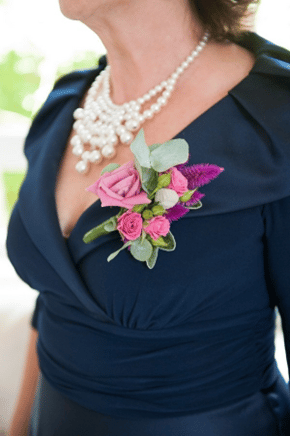 If you want a uniform look to your wedding, co-ordinate your corsages with the men's buttonholes. You could choose a white rose as this will complement most people's outfits.
Corsages usually come complete with a pearl-headed pin that you push through the back of the garment, through the corsage and back through the garment.
Corsage magnets are also available for delicate fabrics where a pin may damage it. A small magnet is incorporated at the back of the corsage design, with a thin metallic disc placed on the back of the garment that secures it in place.
Wrist corsages can also look very stylish. These should be created from sturdy, circular focal flowers such as orchids or roses and finished with a wide ribbon to tie around the wrist.
Handbag corsages are becoming more popular because guests want to protect their clothes. These are created in a similar way to a normal corsage. They are best attached to a rigid part of the handbag; either the handle or the main part of the bag itself.
Corsages are more expensive than buttonholes as more work goes into them. Expect to pay upwards of £12 each.
As buttonholes and corsages are wired the flowers are unable to drink. Your florist will box and wrap them carefully in tissue paper and store them in a cool place until delivery.
If your flowers are being delivered to your wedding venue several hours before the ceremony place them in a cool, dark area before wearing.
Why not take a look at the other wedding blogs on the website for more inspiration!
https://www.capesthorne.com/wp-content/uploads/2016/10/capesthorne-hall-logo_340x.png
0
0
Anne Austin
https://www.capesthorne.com/wp-content/uploads/2016/10/capesthorne-hall-logo_340x.png
Anne Austin
2022-06-14 11:50:24
2022-06-14 11:51:45
A Guide to Corsages