A popular choice for brides is the A-line wedding dress. They have many similarities with the princess/ball gown style dress while also being quite different. An A-line dress is flattering on all body types so it's not a surprise that many brides opt for this feminine style.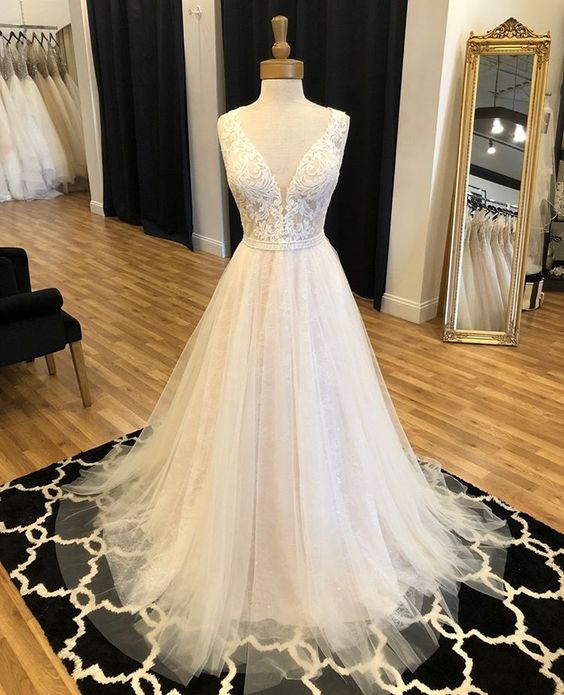 Like a princess dress, the A-line has a fitted bodice to the hips. The main difference is the skirt. The princess dress flares out dramatically from the hips, whereas the A-line has a more gradual flare. This gives the dress an A-shaped silhouette, hence the name A-line.
The A-line skirt is versatile so you can pair it with different necklines for one that suits your body shape.
The skirt can also be made from many different types of materials, so you can have a skirt that ripples and flows as you move, or a stiffer fabric for more structure and a stronger silhouette.
A-lines can be an easier dress to move around in because the skirt is not so heavy, perfect when you're hitting the dance floor. And because of the long skirt length, you can choose to ditch high-heels if they're not your sort of thing and go for something more comfortable. And for us shorter ladies, the gradual flare of the skirt gives the illusion of height without the need for overly high shoes.
The skirt length means you can even wear tights underneath if your wedding is during the colder months. No one is going to see.

As there are so many choices in styling your A-line dress, it is the ideal dress for any location. It will handle the formal location of a church or castle setting for your ceremony, then go to a back garden barbecue or country village hall for the reception.
Whether a modern setting for a chic wedding or a more traditional church wedding, then an A-line dress is worth exploring. It's feminine, subtle silhouette works for all body shapes and heights, making it the perfect choice for any bride.
Why not take a look at our other wedding blogs for more inspiration!
https://www.capesthorne.com/wp-content/uploads/2016/10/capesthorne-hall-logo_340x.png
0
0
Sarah Deeming
https://www.capesthorne.com/wp-content/uploads/2016/10/capesthorne-hall-logo_340x.png
Sarah Deeming
2020-11-26 10:34:22
2020-11-26 14:58:03
A-Line Wedding Dresses