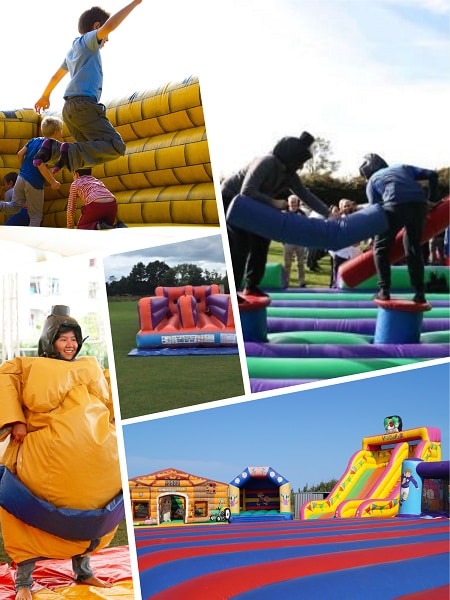 The other day I was scrolling through Facebook and I saw a video for real life Whack-A-Mole. This is a large inflatable dome, someone stands in the middle with a foam mallet and they have to hit other people as they pop up out of the holes. I had two thoughts;
One, why have I not been to a party where there's one of these? Two, what other amazing options for entertainment have I been missing out on.
It turns out there are loads more options than your basic bouncy castle, although who isn't going to love a bouncy castle and they've certainly moved on since I was little.
Sumo suits and gladiator duels pit guests against one another. Your guests wear giant sumo suits or hold soft plastic pugil sticks and try to beat one another. Perfect for children of all ages and sizes.
Rodeos, surf simulators and bungee runs are amazing fun, testing your guests' co-ordinations and encouraging their competitive streak to see who can stay on the longest or go the furthest.
And now the one that started this blog off, Whack-A-Mole. This one appeals to my inner child as I'm sure it would your guests. It would certainly be a long-lasting talking point about your wedding and a yard stick by which all other weddings to be measured by.
You might want to consider setting a few ground rules before everyone piles on, like children first. If we're honest, families with children usually leave before everyone else, so no one will miss out if you stagger turns based on age.
Just make sure your guests know in advance what entertainment you're having. Maybe on the invite suggest a change of clothes if you want to surprise people.  That way they're less likely to flash their underwear or rip their new dress. Everyone has fun and keeps their dignity.
Some of these inflatables need space for setting up. At Capesthorne Hall this isn't a problem. The Saloon opens on to the terrace and West Lawn where there is enough space for the inflatable of your choice. Plus, your guests don't have far to go to enjoy the entertainment then go back into the Hall for food and drink. A perfect set up for a perfect day.
https://www.capesthorne.com/wp-content/uploads/2016/10/capesthorne-hall-logo_340x.png
0
0
Sarah Deeming
https://www.capesthorne.com/wp-content/uploads/2016/10/capesthorne-hall-logo_340x.png
Sarah Deeming
2018-10-05 14:28:51
2018-10-05 14:29:51
Amazing Inflatables