One of my lasting memories of the Royal Wedding, other than Meghan's beautiful dress, was when the Duke and Duchess of Sussex walked out of St George's Chapel at Windsor Castle through the arch of flowers. Is there anything more romantic than leaving the church as a newly married couple through an enchanted floral arch?
Floral Events Wedding
Wedding arches have their roots in religious ceremonies. In particular, Jewish and Hindu weddings. The Jewish huppah represents the home newly married couples will live in while in Hindu weddings the mandap represents the universe and the parents of the married couple. They are very popular in America and more and more couples are choosing to have one here in the UK whether they have faith or not.
Outdoor Wedding
Arches are great for civil ceremonies or outdoor weddings. They're a central point to keep your guests focused on you and give you a special place to say your vows.
Church
You can even use them to decorate your church as you walk out.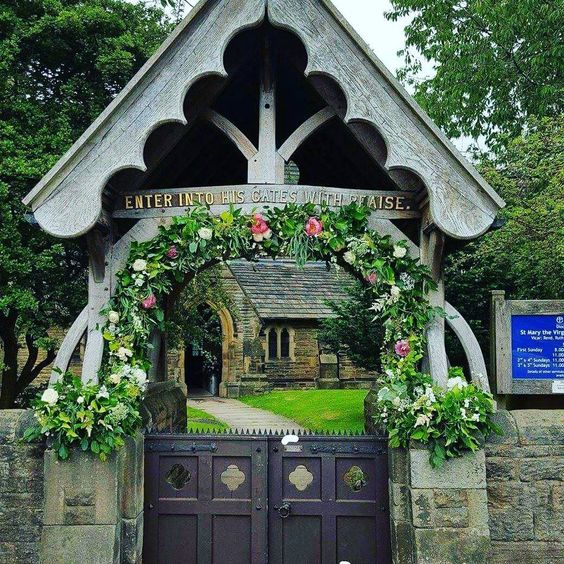 Cake
The arch is a moveable structure and so eye-catching you can move it around to draw your guests' attention to certain things, like yourselves during your breakfast then the wedding cake for the rest of the night.
Close up
Worried about it wilting during the day? Not a problem. Silk flowers are incredibly realistic, and they will last all day and night.
Bespoke
You don't have to stick with an arch either. You could have any design your florist can make a frame out of.
Capesthorne Hall Lakeside Wing
Our Lakeside Wing is perfect for floral arches or focal points like this idea used for our photo shoot with Slice of Pie Photography where we used floral hoops instead of arches, but the effect is the same.
Lakeside Lookalike
This set up is like our Lakeside Wing (although it isn't) With our starlight canopy and an arch it's a dreamy look you can have for your own wedding.
Glamour
I hope these floral arch ideas have given you some inspiration to bring a touch of glamour and enchantment to your wedding.
Selfie
And, finally, they're great fun. Who isn't going to want their picture taken in front on it. I'd have one in my bedroom if I could, so I could make a dramatic entrance into the rest of the house every day!
https://www.capesthorne.com/wp-content/uploads/2016/10/capesthorne-hall-logo_340x.png
0
0
Sarah Deeming
https://www.capesthorne.com/wp-content/uploads/2016/10/capesthorne-hall-logo_340x.png
Sarah Deeming
2018-06-19 13:23:04
2018-06-19 13:28:59
Enchanted Arches