OK, so having watched all eight series of the epic Game of Thrones, I can't think of a single wedding that ended well. However, Game of Thrones was set in a tumultuous political landscape with dragons and ice zombies thrown in for good measure, grim dark is the technical genre term, not the real world, so you can have a Game of Thrones themed wedding without fearing a replay of the Red Wedding. And it would certainly be a lot of fun.
As soon as your guest receives this invite, they're going to know what the theme is. You can even extend it to your bridesmaid and groomsmen proposals with this fun cards and gifts.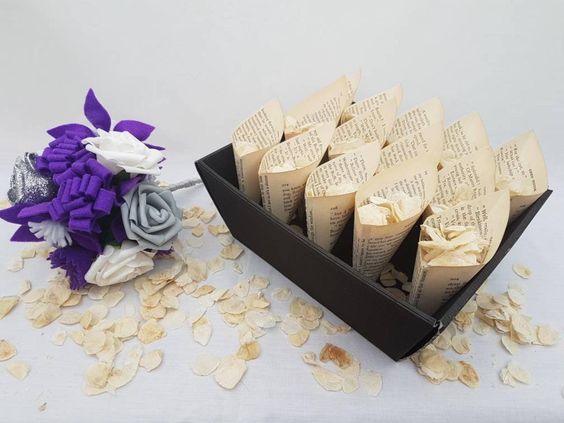 These confetti cups are made from pages of the books. You can set a confetti table at the entrance to your venue for guests to use at the end of the ceremony.
And don't forget your table. You can have the table plan with one of the most well-used lines in the series (after "You know nothing, Jon Snow,") which is funny even if you don't know the series.
You can use the different houses as names for your tables and these place settings for your guests' names.
You can even have this unique alternative guest book where your guests write their message on one of the thrones and leave it on the dire wolf head. The little box also contains wooden hearts for extra messages.
These little chocolates are perfect for favours and are totally in keeping with your theme.
And don't forget your cake. There are some amazing things wedding cake makers can do to embrace your theme. This one focuses on the throne everyone is so obsessed with.
While this one is more like the opening credits for the series, covering all the different realms in the kingdom of Westeros.
Or, if you wanted something a little more subtle, then this cake topper is perfect and the message is incredibly romantic, a nod to a relationship that grew to real love and respect, a rarity in Game of Thrones.
A sentiment which is reflected in these special chairs that are ideal for you and your partner to sit on during your breakfast.
With all these little details you can create an awesome wedding full of playful references to a fantastic series. And the series focused on the most powerful people in Westeros, so whatever style of dress you choose you will look like the true Queen of the Seven Kingdoms.
https://www.capesthorne.com/wp-content/uploads/2016/10/capesthorne-hall-logo_340x.png
0
0
Sarah Deeming
https://www.capesthorne.com/wp-content/uploads/2016/10/capesthorne-hall-logo_340x.png
Sarah Deeming
2020-03-20 15:29:51
2020-04-02 08:53:48
Game of Thrones Wedding