This year has been a little harder than most. It's given us all time for reflection, understanding what's important and ditching the unnecessary. This is true for weddings too, reducing what we can have on our big days has helped us focus on what matters.
Now if you're fiancée has always wanted a luxury watch or a drive-a-tank experience, then it is definitely the time to get him one. But if you're struggling for ideas, here's some inspiration to get you started.
I love this idea because it is subtle yet filled with meaning. This message on a tie patch can be personalised to whatever you want, within the size limit of course.
As an alternative, this box contains ten reasons why you love your partner to be. It allows you to say all the things that you may find difficult face to face.
And for a little message that he will always have on him, this engraved, handwritten picture card fits perfectly in his wallet, so it will be there whenever he needs it.
Or if you don't want to do this, you could write a love letter, expressing how you truly feel. It is a romantic gesture guaranteed to put a smile on his face.
Little gifts can be the most meaningful and the most playful. Everyone needs socks, and these contain a little joke that only the two of you will know about combining both of those elements in one.
If your other half is a whiskey drinker, then wooden whiskey tumblers are the way to go. The wood keeps the whiskey insulated, so the heat from your hands doesn't warm it up. Perfect.
Being nervous before their wedding isn't just the remit of women. Men get nervous too. So to show that you appreciate that, this box is full of little things to help relax your soon-to-be-husband.
This is an extremely handy gift, Ideal for a gadget person, or someone who can never find cables when they need them. These cable organisers keep everything together and removing a little stress from their lives.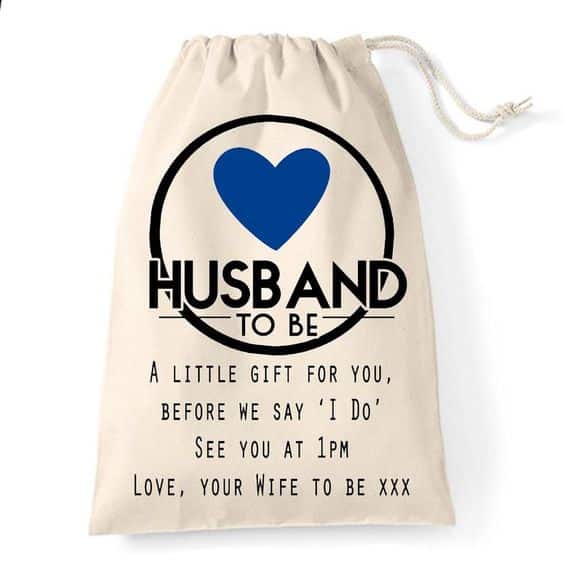 And whatever you chose,  whether it is an expensive item he has always wanted or a heartfelt momento, this is the ideal presentation bag for your gift. What more do you need to say except "I do"?
Why not take a look at our other wedding blogs for more inspiration!
https://www.capesthorne.com/wp-content/uploads/2016/10/capesthorne-hall-logo_340x.png
0
0
Sarah Deeming
https://www.capesthorne.com/wp-content/uploads/2016/10/capesthorne-hall-logo_340x.png
Sarah Deeming
2021-01-07 10:25:36
2021-01-07 10:32:27
Meaningful Gifts for Him