The History Of Bridesmaids
The History Of Bridesmaids
We all know that bridesmaids serve an important role – planning hen parties, standing by the bride's side, and supporting her emotionally through the entire planning process. However, it might surprise you to find out that the history of the bridesmaids isn't so glamorous. In fact, the role of the bridesmaid and the bridal party has evolved over time. So while the duties of modern bridesmaids might seem daunting, they actually have it much easier than bridesmaids of the past.
Bridesmaids Were Originally There To Serve The Bride
One of the most common references to the history of bridesmaids points to the Bible.  The book of Genesis tells the story of Jacob who married two women, sisters, Rachel and Leah.  At their weddings, both women were escorted by female servants – the bride's maids. During this time, bridesmaids weren't necessarily family members or friends. Rather, they were domestic workers who catered to the bride's needs during the wedding day. Obviously, bridesmaids today are selected based on their relationship to the bride, not because they work for her.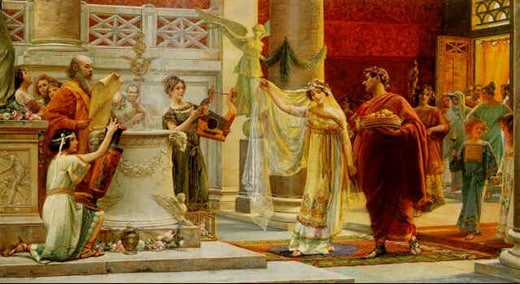 The Bridesmaids Role Was To Protect The Bride
In ancient Rome, bridesmaids didn't just attend to the needs of the bride, they also protected the bride from evil spirits.  In many cultures, a dowry of money, jewellery, furniture, or other valuables were presented on the wedding day; making the bride a target for robbers or thieves.  In other cultures, brides had to travel long distances (in a large group) in order to meet to her betrothed. In either case, the bridesmaids would all dress like the bride in order to serve as decoys and confuse rival suitors, evil spirits or anyone/anything else that had ill-intentions toward the bride.
Maid Of Honour Was More Than A Title
Traditionally, the maid of honour is role held in high esteem. They were supposed to be women who had a respectable standing in the community, someone who represented "fidelity and obedience" and upheld the qualities considered important in a wife, as a reminder to the bride of how she should carry herself.  More than just a close friend or beloved family member, this woman was a role model. At one point in time the maid of honour was considered the bride's favourite. She was expected to be at the bride's beck and call in the months and weeks leading up to the wedding. Maids of honour were responsible for carrying the monetary portion of the bride's dowry – also putting her at risk to thieves.
Today's maids of honour are responsible for planning a hen party or bridal shower and serving as the lead bridesmaid.
The only difference between a maid of honour and a matron of honour is that  the matron of honour is married, and the maid is not. All other duties remain the same.
Why not take a look at the other wedding blogs on the website for more inspiration!
https://www.capesthorne.com/wp-content/uploads/2016/10/capesthorne-hall-logo_340x.png
0
0
Anne Austin
https://www.capesthorne.com/wp-content/uploads/2016/10/capesthorne-hall-logo_340x.png
Anne Austin
2022-06-24 10:05:02
2022-06-24 10:05:47
The History Of Bridesmaids