You might be forgiven for thinking that when it comes to flowers us winter brides must look abroad for inspiration. I mean, its Britain in the winter. Nothing grows, right?
Wrong. As I've mentioned before, the British Flower Bus at the RHS Flower Show made me think again about the flowers available in the UK. The bus is powered by Florismart, a fantastic company who connect British growers to us, the flower loving public. As a conscientious shopper, this is the sort of thing I love supporting.
Anyway, on a peruse of their website, looking for inspiration on how I can keep my house bright and colourful this winter, I pulled together the best to share with you, so you can have colour in your bouquet and support British growers at the same time.
Daffodil
Do I really have to tell you about daffodils? Everyone knows them with their yellow trumpet heads and they symbolise rebirth and new beginnings. Perfect for a wedding.
Tulips
These flowers come in a variety of colours so you're sure to find one that matches your scheme. Although each different colour has a slightly different meaning, tulips, in general, mean perfect love. Another reason for me to love tulips.
Hyacinth
I have hyacinths in my garden. They're early bloomers so I still have colour all year around. They are delicate little flowers and will bring depth to any bouquet by the way the flower heads cover the whole stem. The blue ones express sincerity. A perfect sentiment to take into a wedding.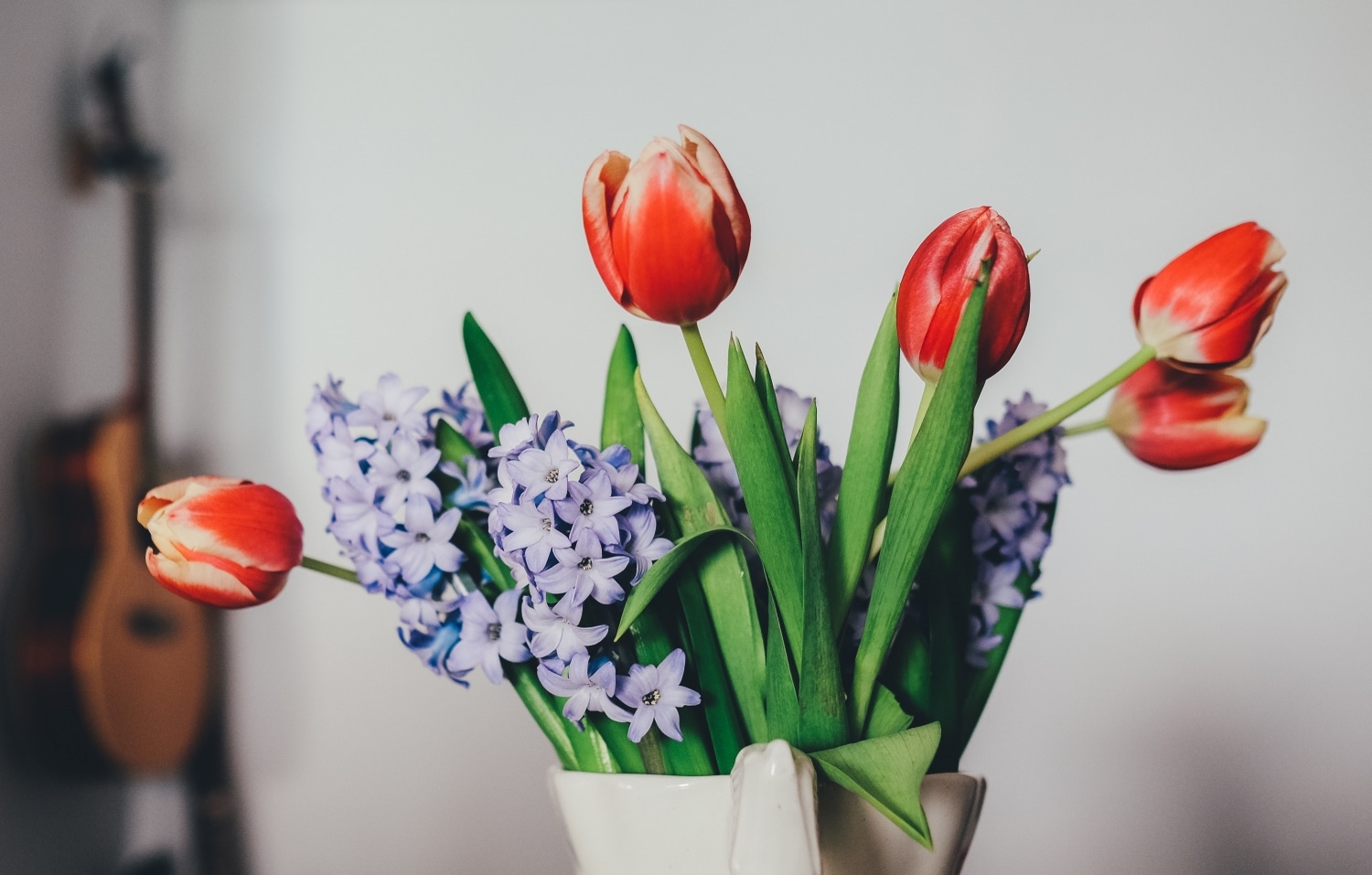 Snowdrops
Another flower from the Deeming garden is the snowdrop, but don't let this fool you into thinking I'm a gardener. I just like to think I am. Anyway, snowdrops are such a recognisable flower they don't need much introduction. When we see snowdrops, we know winter is coming to an end and so they've come to symbolise hope.
Rose hip
For foliage and adornment, you can use rose hips. They will bring contrasting colours as well as depth. As part of the rose family, they have a meaning of love in the language of flowers, in particular, waiting for the right one. Another good reason to have them in your bouquet.
Holly
And if you're having a proper winter wedding, you must consider using holly. I could do a whole blog on the symbolism of the holly tree, the shape of the leaves, and the colour of the berries. But I won't. Instead, I'll focus on what it means to us now. Nothing says Christmas and winter like holly with the deep green leaves and bright red berries. Just be careful of the prickles!
https://www.capesthorne.com/wp-content/uploads/2016/10/capesthorne-hall-logo_340x.png
0
0
Sarah Deeming
https://www.capesthorne.com/wp-content/uploads/2016/10/capesthorne-hall-logo_340x.png
Sarah Deeming
2018-12-03 19:48:10
2018-12-05 12:18:27
Winter Flowers