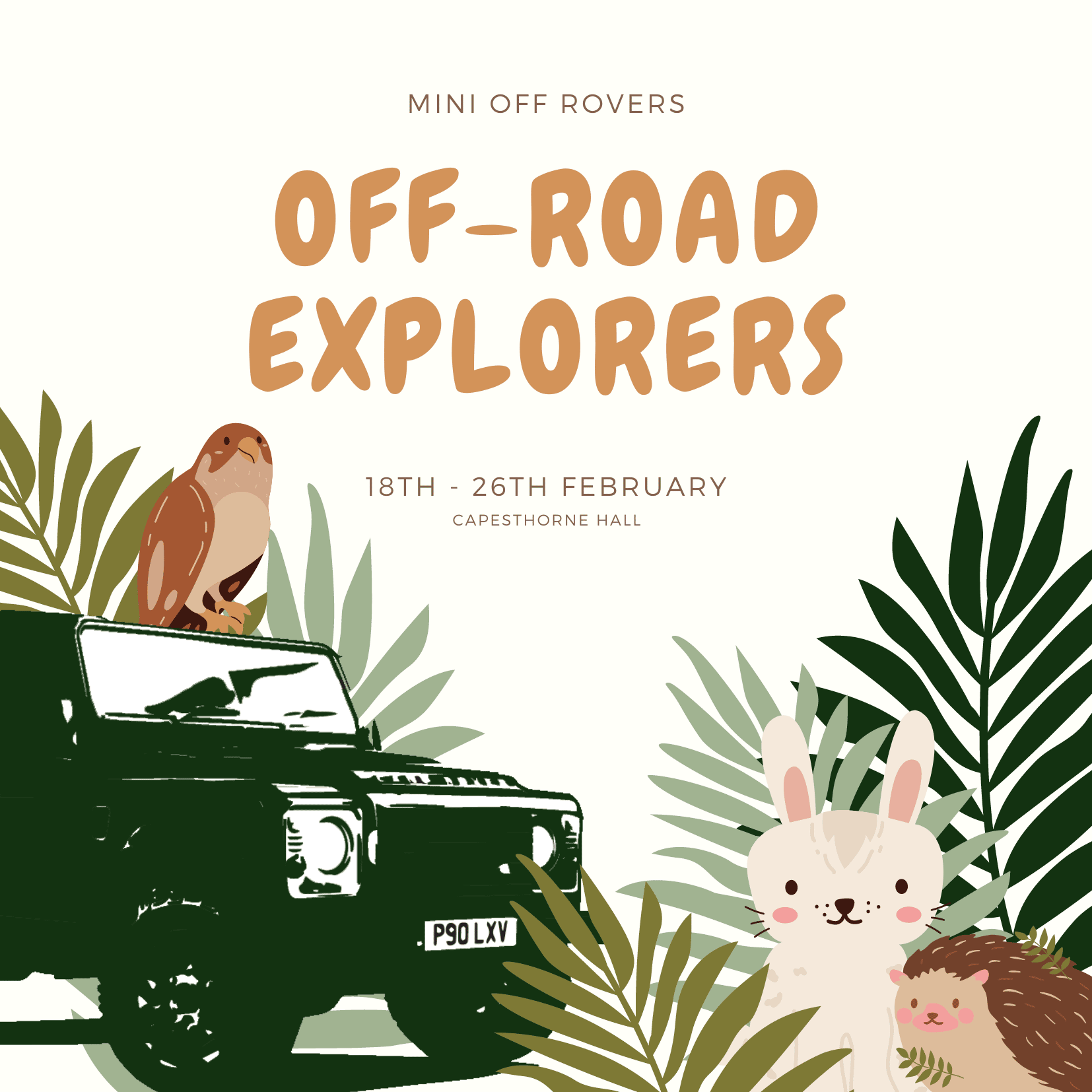 Mini Off-Rovers is getting revved-up to bring their mini Land Rover driving experience back to Capesthorne Hall for our first event of 2023.
We're giving you a reason to look forward to February half-term like never before!
Let your little explorers enjoy a mini Land Rover expedition around the Capesthorne Hall Estate during their half-term event – Nature Quest!
Once again, we're delighted to offer families the opportunity to take one of our mini Land Rovers – designed specifically for children – out around the Capesthorne Estate for 30 minutes to explore their woodland, lake and wider parkland – this time taking home an extra special souvenir!
Mini Off-Rovers lets children get behind the wheel and enjoy a thrilling – and as authentic a driving experience there is – for children their age. After a short practice, together with a responsible adult(s), they'll set-off around the route we have planned for you, navigating the off-road terrain and testing their driving skills as they manoeuvre their way around bends, over bridges, and through woodland. There couldn't be a better time to bring your child along for the opportunity to earn their 4×4 off-road driving licence than at Capesthorne Hall's half-term 'Nature Quest'!
Land Rover is synonymous with land exploration and adventure, and for explorers and scientists, Land Rover provides an unrivalled means of transportation through some of the most difficult and inhospitable terrains on this planet. They have contributed to the preservation of fragile environments and endangered wildlife around the globe. So, whatever the quest – from jungle searches to dessert safaris – Land Rovers have enabled people to have encounters with Nature of the closest kind.
On our Mini Off-Rovers' drives this February, children enjoy the same sense of freedom and independence, out on their own exploration of the Capesthorne Hall Estate. They'll delight in the adventure of navigating the natural features of this stunning estate, which will feel just as thrilling as any real-life expedition, in their eyes!
Having completed such a testing but thrilling drive, we think our young drivers will definitely have demonstrated a level of driving ability that earns them their own licence!
Each driver will receive one of our specifically designed driving licences included in the price of the drive. Lanyards, enabling them to wear their driving licence with pride, will be available to purchase for a small additional cost.
Each driving experience is 30 minutes long, but we know you'll want to spend longer than that at this fantastic venue so we are inviting you to spend the day with us, and to make that day fun-filled, there are many more activities for your child to enjoy.