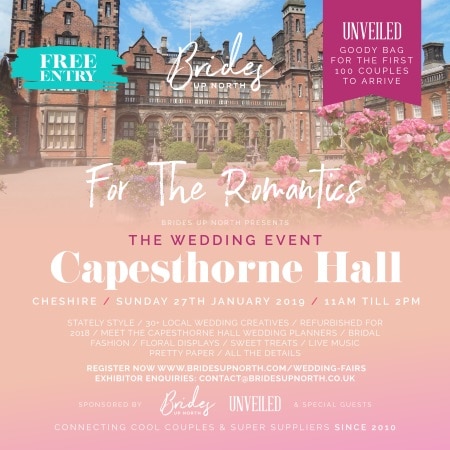 In collaboration with UNVEILED Magazine, Brides Up North is thrilled to welcome 30+ of the area's most incredible wedding creatives back to the iconic Capesthorne Hall for our stunning luxury wedding show this January.  With every detail covered from cakes to cars to bridal fashion, via diamonds, photography and floral design, this showcase will tick off every last to-do on your wedding planning checklist. For those still on a venue hunt, Capesthorne Hall's wedding team will be on hand to talk through every element of your big day and areas of the Hall and newly refurbished Lakeside Suite will be dressed for an elegant wedding celebration. Don't miss the newly opened bridal accommodation on site too! This is a must do date for every stylish Cheshire couple and their bridal party.
BRIDE TO BE?
To pre-register for a FREE Brides Up North VIP Bride-To-Be Goody Bag (stuffed with treats and glossy mags) and FREE ENTRY, fill in your details below. You can collect your VIP Bride-To-Be Goody Bag upon entry to the Luxury Wedding Show.   Only the bride need register for larger groups.
VIP Bride-To-Be Goody Bags available while stocks last only.
CLICK HERE FOR ONLINE REGISTRATION FORM
Your data will not be shared with third parties other than the host venue.
FANCY EXHIBITING WITH US?
We would love to welcome new exhibitors to the Brides Up North family in 2019. We are now accepting exhibitor bookings for all of our epic Wedding Shows across three regions.
CLICK HERE TO VIEW OUR FULL SCHEDULE