Wedding Keepsakes for your Guests
The time old tradition of giving wedding favours is wonderful, but somehow over the decades has at times lost its way. Sugared almonds used to be the standard go-to gift to wedding guests. It is said that these are symbolic, as the sweet shell and bitter almond represent the duality of marriage. These days, couples tend to opt for a gift that says something about them as a couple or something their guests will actually like! But how many weddings have we all been to where these little gifts have been left strewn on tables and discarded under a chair? It's a lot of expense to go to for them to be forgotten about. We have looked at some unusual wedding treasures for your guests, that won't break the bank and that stand a greater chance of being enjoyed.
You can take further inspiration from your wedding venue, wedding colour scheme or wedding music to make your day even more memorable.
Personalised biscuits
These will either take a great deal of time in the last week of your planning or require a professional, but are so worth it. They're likely to get devoured after midnight when the munchies have kicked in and we have it on good authority that they've saved some very sore heads the next day! Letter stamps for icing can be easily found on Amazon and are really inexpensive. 

Mini bottles of booze
So simple, yet so effective and most of the time, very much appreciated! This is a favour that might bump up the wedding budget a little, but there are plenty of suppliers out there who are up for wangling a good deal for you. 
Handmade pin cushion hearts
This is one to get your crafty friends involved with. Make them even more personal by using remnants of old materials you might have been holding on to for something like this. Stuff with lavender for an aromatic as well as thoughtful keepsake. 
Miniature succulent plants
Ok, this is trending right now so not exactly original thinking on our part. But mini succulents are a major win. Beautiful, inexpensive and so easy to take care of.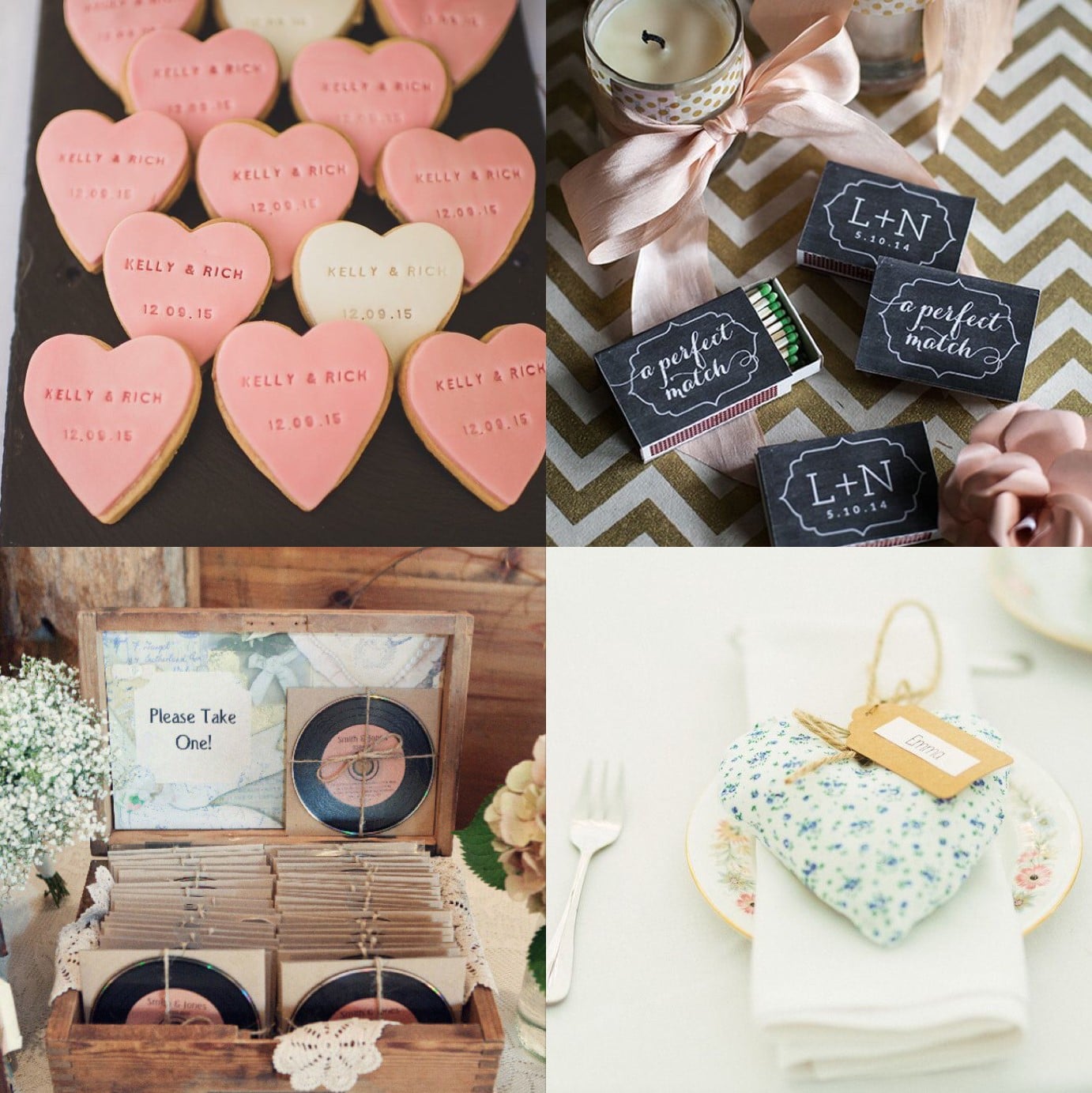 CD of wedding playlist
This is one of our favourites. It requires time and thought, but for that moment when your wedding CD gets picked up in the car and put on the stereo months after the day has past, and your friends sit and reminisce on how special it was, and those priceless moves on the dance floor… Perfection.
Personalised matchboxes
There are dozens of suppliers on the wonderful etsy.com based in the UK ready and eager to create these for your unusual wedding favours. Practical, inventive, unique and who can resist that "Perfect Match" pun?! We recommend Pearly Pants Crafts for unique wedding designs.
Flower seeds
Perhaps one for the more cultivated guests, it for those who do like a bit of green-finger activity, watching your seeds grow and bloom as your marriage evolves could be a heart tickler.

Handpicked books
This might make your mum want to die a thousand deaths, but how about raiding the charity shops for second hand books and personally selected one for each of your guests. For someone you know is a period drama fan, a handpicked copy of Jane Austen's 'Pride and Prejudice' will be treasured forever. Even little Mr Men books would go down a treat.
Love poetry
In the same vein as the previous, how about putting together a selection of your favourite poems and making them into a little pamphlet. Or, again, there are hundreds of suppliers who can do this for you.  
Custom muslin bags
Last but not at all least these custom bags are to die for and can be filled (or not) with pretty much anything. But it's the bag themselves that are such a treat. We recommend Chocolate Wolfe, based in Lincolnshire UK, supplying on Etsy. They're less cost effective than many favours, at £17 for 10 bags, but we think a worthwhile investment.
https://www.capesthorne.com/wp-content/uploads/2016/10/capesthorne-hall-logo_340x.png
0
0
Jenn Clempner
https://www.capesthorne.com/wp-content/uploads/2016/10/capesthorne-hall-logo_340x.png
Jenn Clempner
2016-09-06 08:13:33
2021-01-19 12:28:03
Wedding Keepsakes for your Guests